I have a few guys in my life, no I'm not dating all of them, but I have found that I want to buy things for them and I was surprised at the large selection of men's products that EdenFantasys carries!
Not only do they have adult products for men, but they have clothing and underwear too. This is not just sexy stuff, but briefs, pajama paints and even body washes! I love this because now, not only can I shop for me on EdenFantasys, but I can shop for the men in my life too.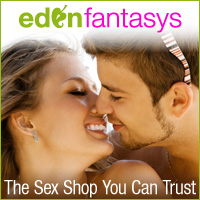 I bought my brother Venus Body Wash for men, in Man scent and I've recently bought some male skincare products for a guy I'm seeing. I'm also thinking I may just have to buy his birthday gift there too. I'm sure he would enjoy anything I bought him from the site. This time instead of something I would wear for him I can buy something he can wear! Yes, I will still buy him something that I would wear too, since it is his birthday!
Have you checked out the men's products on EdenFantasys? What do you think of the selection?
Disclosure: This post brought to you by EdenFantasys an online sex toys retailer
Share and Enjoy