I love shopping for adult products, its fun and it's almost like your a kid in a candy store, except not everything is editable and your not 12 anymore. Many people look at the adult products industry offensive, but I love how using adult products can not only bring couples together but friends together also. Since me and many of my friends share tips and advice with each other.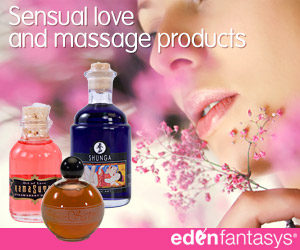 I love the products I have received from Eden Fantasys and since they have things besides toys I can recommend them to almost all of my friends. They carry lingerie, adult toys, massagers and lotions. Really everything you need to have some adult fun. I also like that many of the products can be used in a non adult way, like some of their massagers are great for back and neck pain. Also the lotions are not just for toys but for body also. I personally love the body massage lotion for every day use.
They also have some great gift ideas so check them out and let me know what you think, is there a product you would love to get as a gift?
Share and Enjoy