Valentines day is just around the corner and you may still be wondering what you want to get for your sweetie, maybe you want to do something besides flowers and chocolate and I have a great site where you can do just that, EdenFantasys, an adult products site that is not just about the toys, but about experiencing your lover and bringing you closer together.
I love their sensual love section, it has lotions, massage oils, bath products and so much more that screams lets spend some time together, just the two of us. I have recently tried their Shunga bath and shower gel, the fruit one is amazing. I also love their satin sheets products and their Suntouched edible candles.
They really have some great products and I have a wonderful stash for myself this valentines day, what do you have?
Share and Enjoy
I'll admit I am not a huge fan of Valentines Day. I have never had a guy for Valentines day, well at least not anyone serious. Last year I was kind of seeing a guy on Valentines day, but he was also seeing someone else at that point. So lets just say it was not much fun.

This year it looks like I will be single again, but if I wasn't I have a nice wish list of things I would love to get for Valentines day and I know my partner would love them too. Most of them are found on the Eden Fantasys website because I love them, their prices and their selection. One item I have my eye on is a box to put my adult toys into. I think even something as simple as a small vibrator needs a good hiding spot so that people don't ask questions.
Another item I would love to get is the Red satin and lace bustier I found and have pictured. I love it and because of the type of bustier it is I could actually wear it out in public. I also think my man, if I have one by Valentines Day would love to see me in something like this and of course a relationship is give and take right?
Share and Enjoy
I love shopping for adult products, its fun and it's almost like your a kid in a candy store, except not everything is editable and your not 12 anymore. Many people look at the adult products industry offensive, but I love how using adult products can not only bring couples together but friends together also. Since me and many of my friends share tips and advice with each other.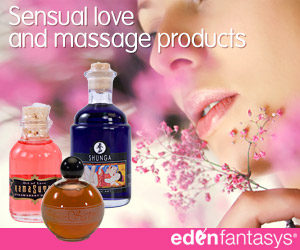 I love the products I have received from Eden Fantasys and since they have things besides toys I can recommend them to almost all of my friends. They carry lingerie, adult toys, massagers and lotions. Really everything you need to have some adult fun. I also like that many of the products can be used in a non adult way, like some of their massagers are great for back and neck pain. Also the lotions are not just for toys but for body also. I personally love the body massage lotion for every day use.
They also have some great gift ideas so check them out and let me know what you think, is there a product you would love to get as a gift?
Share and Enjoy